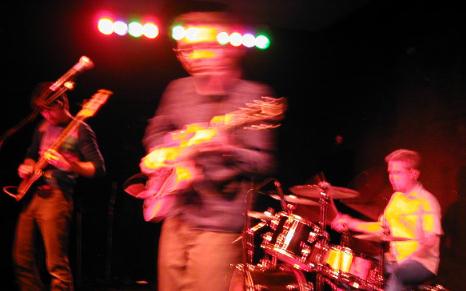 The Sugarplastic -
Little Teeth
(MP3)
The Sugarplastic -
Dunn The Worm
(MP3)
Chercher sur le Net des critiques françaises des disques des Sugarplastic revient plus ou moins à tenter de dénicher des étudiants en lettres favorables au CPE. A part Popnews, infatigable
défenseur
du groupe de Ben Eschbach, on ne se bouscule pas au portillon pour promouvoir ces XTC californiens, auteurs en 2005 d'un album (
Will
) et de sept (!!!) singles récemment
regroupés
sur un CD.
Pourtant, The Sugarplastic est loin d'être un indigne rejeton du gang de Swindon. Ces dernières années, on a entendu Franz Ferdinand pasticher
Helicopter
(le très moyen
Tell her tonight
) ou les sympathiques Dogs Die In Hot Cars faire quasiment un album entier "à la manière de..." (
Please describe yourself
), mais les Sugarplastic ne boxent pas dans la même catégorie. Ils visent plus haut, période
Skylarking
, le chef d'oeuvre d'Andy Partridge.
Charmants à la première écoute, leurs albums se révèlent toujours aussi jouissifs à la dixième. Dans les seuls
Little teeth
et
Dunn the worm
(extraits de
Bang! The Earth is round
et
Resin
), il se passe déjà plus de choses que dans un album entier du revival sunshine pop. En plus, ces types-là sont aussi drôles que cultivés : la pochette de
Resin
reprend ainsi le célèbre tableau de Magritte,
Ceci n'est pas une pipe
. Erudition et bonnes influences, mais aussi humour et personnalité : The Sugarplastic, ceci n'est pas un revival.