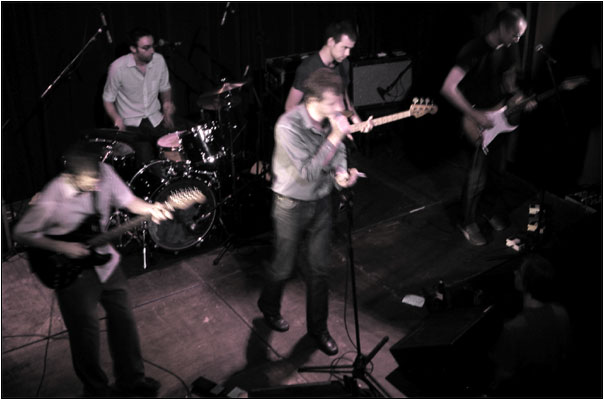 Photo :
Laurent Orseau
.
The National -
Mistaken For Strangers
(MP3)
Les chouchous de la blogosphère, le retour, chapitre 4 : après
The Shins
, Clap Your Hands Say Yeah et
Arcade Fire
, The National. Question collatérale : pourquoi parler d'un groupe dont énormément de sites
ont parlé
,
parlent
,
vont parler
? D'abord, pour enfoncer le clou :
Boxer
est un disque superbe (un de plus), d'une classe absolue, d'une palette toute en nuances et en teintes claires-obscures. De toute façon, tant que Berninger et ses potes n'auront pas fait l'ouverture du 20 h, il faudra tanner tout le monde avec ce groupe.
Deuxième raison : utiliser une de mes marottes actuelles pour parler d'une de mes
vieilles marottes
. On s'est beaucoup moqué (à juste titre) de tous ces groupes anglais qui, passionnés de l'héritage new-wave, pompent allègrement les gimmicks mélodiques de Joy Division sans en toucher l'os. On avait raison : le vrai héritier de Joy Division, c'est The National (Bayon de
Libération
faisait déjà le
rapprochement
dès 2003).
Il y a deux ans, le déchirant
Abel
m'avait mis la puce à l'oreille.
Mistaken For Strangers
, sur ce nouvel album, va encore plus loin : batterie métronomique, grincements en arrière-plan (rappelons-nous qu'Hannett enregistra les bruits d'un vieil ascenseur pour les intégrer au mix de
Unknown Pleasures
), chant habité, violence rentrée. The National est bien le nouveau Joy Division : sourd, solitaire, sombre et sec, un cri qui vient de l'intérieur.
Il faut d'autres arguments ? En voilà un, à la fois historique et personnel. Anecdote historique : les noms Warsaw (première appellation du groupe) et Joy Division firent accuser la bande à Ian Curtis de sympathies néo-nazies. Anecdote personnelle : il y a quatre ans, chroniquant
Sad songs for dirty lovers
dans un fanzine étudiant, je choisis (sur les conseils avisés d'un camarade) d'intituler mon article
"La préférence National"
. Le point commun est tout trouvé : Joy Division et The National sont des vecteurs de
points Godwin
musicaux.